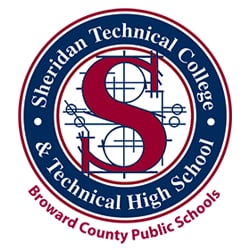 Global Logistics and Supply Chain Technology
From sourcing materials to distribution and transportation, a supply chain is the critical connection between clients and businesses. Members of the supply chain manage the entire life cycle of a product, which includes how a product is acquired, distributed, allocated, and delivered.
In an ever-expanding global marketplace, supply chain management is one of the fastest-growing professions. In 2016, more than 3,000 supply chain jobs were posted in South Florida. Entry-and mid-level supply chain personnel who can operate at the highest level of effectiveness are needed around the world.
This program offers a sequence of courses that provides coherent and rigorous content aligned with challenging academic standards and relevant technical knowledge and skills needed to prepare for further education and careers in the Transportation, Distribution and Logistics career cluster; provides technical skill proficiency, and includes competency-based applied learning that contributes to the academic knowledge, higher-order reasoning and problem-solving skills, work attitudes, general employability skills, technical skills, and occupation-specific skills, and knowledge of all aspects of the Transportation, Distribution and Logistics career cluster.
The content includes but is not limited to: the global supply chain, the logistics environment, safety principles, quality control principles, work communication practices, teamwork-workplace behavior- and problem solving, supply chain computer systems, supply chain life cycle, product receiving and stocking, product order processing, product shipment, safe operation and use of equipment, inventory control, safe handling of hazardous materials, customs process/free trade, modes of transportation (air, sea, truck, and rail), dispatch operations, routing and tracking operations, and customer relations.
Class Start Dates
August 14, 2019
November 13, 2019
February 27, 2020
Blended learning schedule- Monday-Thursday 5pm-1030pm and online curriculum
Internships with Community Partners
For more information on program cost, schedule, content, and admission requirements, see the program flyer or contact
June Armstrong, Student Advisor
[email protected]
754-321-3903