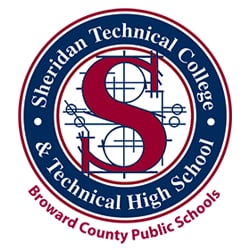 Sheridan Foundation Scholarship Application
The STC Foundation scholarship application will open on February 8th at 8 AM. The minimum award is $500.00
Any High School senior or Post Secondary student continuing their education at an accredited institution (including ATC, MTC or STC) is welcome to apply. 
The application will close on March 10th at NOON and award notification will be on March 19th.
Click Here for the Scholarship Application

TechForce Foundation
TechForce Foundation is a nonprofit 501(c)(3) with the mission to champion students to and through their education and into careers as professional technicians.  Please visit 
techforce.org/sheridan
 to get started.
Rotary Club of Hollywood – Broward Technical Colleges: Atlantic, McFatter & Sheridan Scholarship
The Rotary Club of Fort Lauderdale will be awarding two (2) $1,000 scholarships to current and future
Broward Technical College post-secondary students for the purpose of continuing their education at either
Atlantic, McFatter or Sheridan Technical College.
The criterion for selection is:
• Good moral character and community involvement
• Scholastic aptitude and performance
• Achievement in their technical program
• Two recommendations from an instructor, counselor or employer
• Financial Need
• A resident of Broward County, Florida
Scholarships will be granted for enrollment at Atlantic, McFatter or Sheridan Technical College and must be
expended by December 30, 2020. Funding will be paid directly to the Registration office or the Bookstore at Atlantic,
McFatter or Sheridan Technical College.
Please click here to download the application (PDF)
AmericanMuscle
Four $2000 scholarships for students pursuing an automotive themed major (mechanical engineering, robotics etc.). Two scholarships will be awarded every spring semester, followed by two additional scholarships to be awarded for the fall semester each year. Available to students who are currently enrolled full-time in a secondary vocational school, technical institute, or are high school seniors who are enrolled in one of the aforementioned institutes. Scholarship page: https://www.americanmuscle.com/scholarships.html
AmericanTrucks
Four $2000 scholarships to students pursuing a career in the traditional building trades such as HVAC, carpentry, electrical, or related fields of study. Two scholarships will be awarded every spring semester, followed by two additional scholarships to be awarded for the fall semester each year. Available to students who are currently enrolled full-time in a secondary vocational school, technical institute, or are high school seniors who are enrolled in one of the aforementioned institutes. Scholarship page: https://www.americantrucks.com/scholarships.html