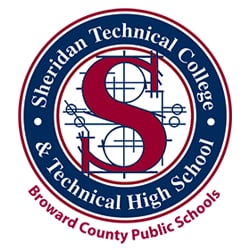 School Advisory Council
Sheridan Technical College has an active and supportive School Advisory Council (SAC).  The SAC helps to identify school needs, prepare and oversee the annual School Improvement Plan, organize an annual needs assessment,  provide public information regarding accountability and serve as a resource to the school and Principal/Director.
The School Advisory Council shall be a link between the school and the local community. A balanced membership comprised of various stakeholders, students, business representatives, municipal/community leaders, concerned citizens, parents and school based faculty and staff assist the school in fulfilling its mission.  School Advisory Council functions shall include:
A.      Facilitating the development of the School Improvement Plan (SIP) Link to SIP: https://www.browardschools.com/Page/35378
B.      Monitoring the implementation of the SIP
C.      Evaluating the effectiveness of the SIP
D.     Providing assistance in the preparation of the school's annual budget
E.      Making recommendations as to the alignment of instructional staffing and instructional       materials to support the SIP
The responsibilities and duties of the School Advisory Council will be in accordance with Florida State Statutes 1001.452 and Broward County School Board Policy 1403.
2021-22  Meeting Schedule (11:30 a.m. – 1:00 p.m. on the  Main Campus)
September 22, 2021
October 27, 2021
December 17, 2021
January 22, 2022
February 23, 2022
March 31, 2022
April 27, 2022
May 25, 2022                
2020-21 SAC Meeting Schedule and Minutes
NOVEMBER 18, 2020 (WEDNESDAY)**        11:30 AM – 1:00 PM  Via Teams
JANUARY 20, 2021 (WEDNESDAY)               11:30 AM – 1:00 PM Via Teams
FEBRUARY 17, 2021 (WEDNESDAY)            11:30 AM – 1:00 PM Via Teams
Agenda from the Feb. 17th Meeting
Minutes from the Feb. 17th Meeting
MARCH 17, 2021 (WEDNESDAY)**                11:30 AM – 1:00 PM TBD
Minutes from the March 17th Meeting
MAY 19, 2021 (WEDNESDAY)                        11:30 AM – 1:00 PM TBD
** Joint SAC/SAF Meeting
Agenda from the May 19th Meeting
Minutes from the May 19th Meeting
SHERIDAN TECHNICAL COLLEGE & SCHOOL ADVISORY COUNCIL BY-LAWS can be found here.
SHERIDAN TECHNICAL COLLEGE & SCHOOL ADVISORY COUNCIL MID YEAR REFLECTION can be found here